Doctor Strange 2 to Jurassic World 3, here are the best upcoming movies
There's no shortage of upcoming movies to get excited about in the near future. The Lost City is a comedy you can't miss, with Sandra Bullock and Channing Tatum on the run through the jungle from an eccentric billionaire. Other titles coming out this spring include the historical epic The Northman and Jared Leto's take on vampire antihero Morbius – and yes, it's connected to the MCU.
As for later in the year, the Marvel machine really ramps up its big-screen output with Doctor Strange 2, Thor: Love and Thunder, and Black Panther 2 all on the way, while DC has Black Adam and Shazam! Fury of the Gods to offer.
If superheroes aren't your thing, there's Top Gun: Maverick, Jurassic World 3, and Halloween Ends coming your way too – and that's just the start. So, without further ado, keep reading to find out everything you need to know about this year's most highly anticipated upcoming movies in 2022 and beyond.
Doctor strange 2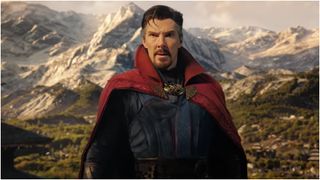 (Image credit: Disney/Marvel)
Five months after his appearance in Spider-Man: No Way Home, Doctor Strange returns in the Multiverse of Madness. Having unleashed the multiverse, the former Sourceror Supreme (that's now Wong) must deal with the consequences of his actions. To help, he employs Wanda, who was last seen in WandaVision. The threat appears to be both Baron Mordo and… well, saying anything more would be spoilers for the second Spider-Man: No Way Home post-credits scene. Just know that Sam Raimi – who helmed the original Spider-Man trilogy – is in the director's chair, and we can't wait to see what wonderful worlds he transports us to.
Marvel Studios' "Doctor Strange in the Multiverse of Madness"—is a thrilling ride through the Multiverse with Doctor Strange, his trusted friend Wong and Wanda Maximoff, aka Scarlet Witch. "Doctor Strange in the Multiverse of Madness" opens in U.S. theaters on May 6, 2022.
The Lost City
Release date: March 25, 2022 (US), April 15, 2022 (UK)
Ryan Reynolds was originally circling this action-adventure yarn, but a deal couldn't be struck, and in stepped Channing Tatum instead. He plays the cover model of a book written by Sandra Bullock's reclusive romance novelist, and he joins her on a promotional tour only for Daniel Radcliffe, of all people, to launch a kidnapping attempt. Directed by Aaron and Adam Nee, who made the 2015 dark comedy Band of Robbers and were attached to Masters of the Universe until The Lost City got up and running first, this makes for an interesting proposition given it's a return to the kind of romcom adventures they made in the '80s and '90s but not anymore.
Could it be the new Romancing the Stone, with its jungle setting and attractive leads in peril? And is star power these days enough to propel a vehicle not based on existing IP? Well, Brad Pitt will also pop up in the action, so that's certainly the plan. Tatum has been doing his bit to whip up interest on his Insta account, posting a pic of his torso without much on it, and saying he was shooting a scene that required him to be 'asshole naked'. Who needs IP, right?
Morbius
Release date: April 1, 2022
After the massive (and possibly unexpected) success of Venom(opens in new tab), Sony's going full-steam-ahead on the Spider-Verse. Morbius centers on another troubled villain/antihero (delete as appropriate) – this time it's Michael Morbius, a scientist with a rare blood disorder whose experiments to find a cure end up giving him a form of vampirism. Dallas Buyers Club(opens in new tab) Oscar-winner Jared Leto is playing the so-called "living vampire", so expect impressive levels of commitment from an actor who famously went method playing the Joker in Suicide Squad(opens in new tab).
Sonic the Hedgehog 2
Release date: April 8, 2022
"At the end of the first movie, he really had come into his own in terms of his powers and into the role of a hero," Fowler tells Total Film. "Now we're seeing him step into that role in a more public way. He's still a secret in terms of the public knowing about him. That's the beauty of having super-speed is you can kind of do all these heroic acts, and no one necessarily knows who's responsible for them. It's definitely an itch he needs to scratch, to be out there and to be using his powers for good."
Sonic the Hedgehog 2 comes off a successful first movie, which saw the blue speedster successfully transition to the big screen. Now, in the sequel, we will see him joined by Tails as the duo faces off against a returning Robotnik and… Knuckles. Yes, the red echidna is here, on the side of evil, and voiced by Idris Elba.
"It's just the gravitas – he has such an incredible voice," Fowler says of the casting. "It's a great contrast. Ben [Schwartz] is so energetic, fast-talking, and funny. Idris brings just such weight and power. It felt like a perfect match for what we wanted to do with Knuckles."
Ambulance
Release date: April 8 (US)/March 25 (UK), 2022
Let's get one thing clear about Michael Bay's new movie Ambulance. "It's not a medical drama." So what is it? A heist movie, which is new terrain for the director of Bad Boys, Armageddon, and the Transformers series. "I love a good heist movie!" Bay tells Total Film. "This is one of those if you describe it… it's just something that gets more effed up as it keeps going. It keeps getting more tense."
Yahya Abdul-Mateen II plays Will Sharp, who recruits his adoptive brother, bank robber Danny (Jake Gyllenhaal). While Gyllenhaal "brings his A-game", as you might expect, Bay was really bowled over by Candyman's Abdul-Mateen II.
"I'm like, 'That guy's gonna be a star.'" There will be plenty of trademark Bayhem for the fans, too, of course. Not least one shot of Gyllenhaal spraying bullets at a chopper. "I said, 'Jake, stand here. I'm gonna have a helicopter fly by. And it'll be about 20 feet that way. Just shoot at it!'" All in a day's work on a Michael Bay movie.
Fantastic Beasts: The Secrets of Dumbledore
Release date: April 8, 2022
Given the Fantastic Beasts, movies boast original screenplays – and Warner Bros always cast a Protego Maxima charm over the productions to erect an impenetrable defense shield – all we have to go on regards the plot of this newest chapter is the studio's official release: "Professor Albus Dumbledore knows the powerful Dark wizard Gellert Grindelwald is moving to seize control of the wizarding world. Unable to stop him alone, he entrusts Magizoologist Newt Scamander to lead an intrepid team of wizards, witches, and one brave Muggle baker on a dangerous mission, where they encounter old and new beasts and clash with Grindelwald's growing legion of followers. But with the stakes so high, how long can Dumbledore remain on the sidelines?"
After the lukewarm reviews (TF's, ahem, five-star rave aside) and disappointing box office of The Crimes Of Grindelwald three years ago, there's a lot riding on this third installment – it needs to be a hit to ensure we get the planned fourth and fifth parts. Well, the studio is pulling out all the stops to ensure its success, bringing in Steve Kloves, who wrote seven of the eight Potter films, to pen the screenplay alongside J.K. Rowling, and moving swiftly to replace Johnny Depp as Grindelwald when Depp lost his libel case against The Sun.
Stepping into the evil wizard's shoes is none other than Mads Mikkelsen, who knows a thing or two about darkness. The one-time Hannibal Lecter promises this G-man will be an all-new creation.
"I've been a fan of Johnny Depp since I saw him as a young man, and to try to bring his intensity and his way of doing it into my work is a no-go," he said. "I have to find my own path." Some of the action will take place in Brazil but there are whispers of Hogwarts playing a part, and maybe the appearance of a young Hagrid to go along with Dumbledore's increased role in unfurling events. Now that would be magic.
The Northman
(Image credit: Universal)
Release date: April 22, 2022
"Simply put, it's Viking Hamlet," writer-director Robert Eggers (The Witch, The Lighthouse) tells Total Film of The Northman, a raw-boned thriller that sees Alexander Skarsgård's prince Amleth pursue vengeance for his murdered father. "The trope of wanting to take time in your revenge to torment the person is honored here. But he's not, like Shakespeare's Hamlet, deliberating about whether or not violence is the answer. Not at all."
For Amleth, brutality is undoubtedly the answer, and The Northman, shot in harsh landscapes battered by fierce winds, looks set to be as unforgiving as it is thrilling. It's Eggers' biggest production to date, and he promises it will satisfy both fans of his first two movies and cinemagoers seeking a larger spectacle. "There are certainly some sequences that you can see that I cut my teeth on horror films," he says. "But you're not going to have a Viking saga without sword fights and a Viking raid and all that kind of stuff."
The cast is an electrifying mix of old friends (Anya Taylor-Joy, Kate Dickie, and Ralph Ineson from The Witch, plus Willem Dafoe from The Lighthouse) and starry newbies (Skarsgård, Nicole Kidman, Ethan Hawke, Björk), and all of them braved the testing conditions without complaint. But Eggers is keen to stress that The Northman blends its harsh realities with something a little more fantastical.
"As I've done in my past films, I'm trying to articulate the material world and the interior world of the period," he says. "So if the Viking Old-Norse knight believes in the Valkyries, that will have to be included."
Top Gun: Maverick
(Image credit: Paramount Pictures)
Release date: May 27, 2022
For 35 years we've felt the need, the need for speed. Given the three-decade wait for Tom Cruise to return as Navy pilot Pete 'Maverick' Mitchell in a Top Gun sequel, its further delay due to the pandemic has been especially unfortunate. But our anticipation has only grown, fuelled by those trailers, leaning into the music and iconography, and offering hair-raising glimpses of Cruise pulling eight Gs as he barrels through the sky for real.
"It really puts you inside that airplane," producer Jerry Bruckheimer tells Total Film. "It's unbelievable. You feel it. I get excited every time I watch these aerial sequences. They're so spectacular. The Navy was really helpful. We had some of their best pilots working with us. They helped come up with ideas and worked with Tom."
Plot-wise, Maverick is still living up to his call sign, his disdain for authority preventing him from rising up the ranks. We'll join him just as he's offered a teaching post at – you guessed it – the United States Navy Fighter Weapons School, aka Top Gun, where he must train up a new generation of plucky, puff-chested pilots for a kamikaze real-world mission. Oh, and one of the newbies just so happens to be Rooster (Miles Teller), the son of Maverick's gone-but-never-forgotten BFF Goose.
"We try to stay true to the character of Maverick, and take you on his ride, at this point in his career and his life," says Bruckheimer. "So I think it's really true to the first one. There is nostalgia, obviously, because of the music – we're using the Top Gun theme, obviously. So it's certainly still nostalgic. Anybody who's looked at the first one… their heads will roll back to 34 years ago, 35 years ago."
Jurassic World: Dominion
(Image credit: Universal)
Release date: June 10, 2022
Jurassic World was set in a functioning park, and the sequel Fallen Kingdom spanned an island, a boat, and a creepy mansion. Jurassic World: Dominion, Colin Trevorrow tells Total Film, "is around the whole world". With the creatures – and their DNA – escaping into the open at the end of the last film, the world is now their playground.
"I'm very much engaged in the idea that dinosaurs are animals that are deserving of our respect and they're deserving of our fear, all at the same time, in the way that lions are," he continues. "So this is a movie that starts to venture into a completely new dynamic, and a completely new world in which we have to figure out who has dominion over this planet."
Trevorrow is going back to the franchise's roots, with legacy cast members Sam Neill and Laura Dern returning with Jeff Goldblum (who cameoed in Fallen Kingdom), alongside current stars Chris Pratt and Bryce Dallas Howard.
"Laura, Sam, and Jeff have as much screentime in the film as Bryce and Chris do," teases Trevorrow of the cast split. "They're not together the entire time, but we are following both of their stories equally, and you have a sense that they're going to collide at a certain point… there's this tension. It's not structured necessarily in a way that we're used to seeing our Hollywood movies structured. But it works." The franchise always finds a way.
Lightyear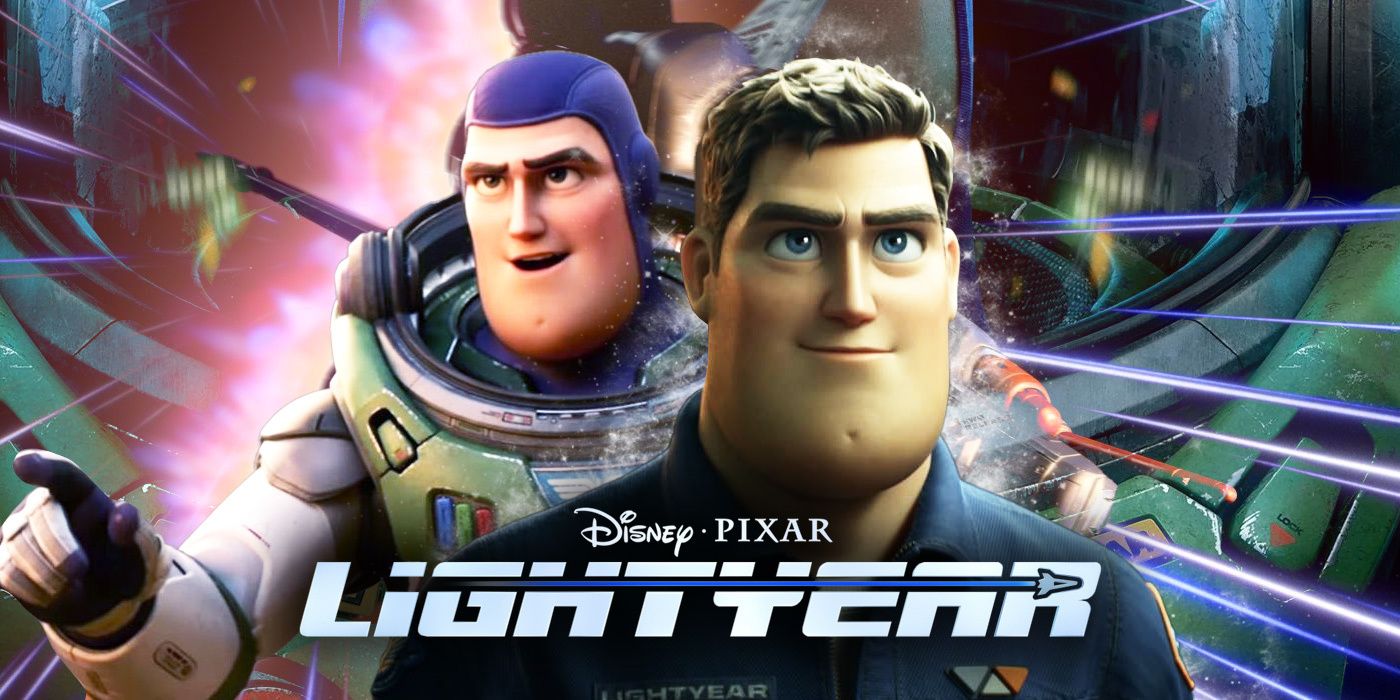 Release date: June 17, 2022
Lightyear might not be the Buzz Lightyear origin story you're expecting. "The confusion, I think, is the word 'real'," explains director Angus MacLane. "People go, 'Well, this is the real Buzz.' This is the Buzz Lightyear character. It's not the toy, it's the character. In Star Wars terms, imagine a Luke Skywalker Kenner action figure would be from Toy Story, and then this is Luke Skywalker, the character, in Star Wars. It's that kind of thing."
In fact, the film is set to put viewers into Andy's cinema seat. "So as far as how it relates to Toy Story… Let's just say it's Andy's favorite movie." MacLane has previous form with the Toy Story universe, having directed the ace short Small Fry and TV special Toy Story of Terror. "Buzz Lightyear was a character I was excited about because I liked sci-fi, and I liked robots. And it was this robotic sci-fi character. It kind of embodied all of the fun of what I enjoyed about that genre."
As for finding the voice for this iteration of Buzz, Chris Evans was the only choice. "Who is an actor who can play importance really well, but also knows how to mock that a little bit – but not in a way that will undercut the character? Chris does that so well as Captain America. But also, he has a really wicked sense of comedy that's very dry and subtle, without undercutting the drama." Buzz confusion aside, Lightyear promises to have a refreshingly straightforward appeal.
"For me, the cinema was the most magical place," adds MacLane. "And the goal of the film is really, when you leave it, you're like, 'That was awesome.' That's the goal."
Thor: Love and Thunder
Release date: July 8, 2022
Karen Gillan promises "bonkers" delights from Thor: Love And Thunder, the Asgardian godhead's fourth headliner. As hoped for, director Taika Waititi intends to thoroughly Ragna-rock audience expectations. "What I wanted to do from the beginning was to ask, 'What are people expecting the least from this franchise?' Oh, I know – a full-blown love story."
Inspired by Jason Aaron's comics arc The Mighty Thor, the set-up certainly looks "full-blown." A spin on Thor lore sees Natalie Portman's Jane Foster lifting Mjolnir – perhaps she will also pick up the cancer storyline from Aaron's run. Also involved are the Guardians Of The Galaxy and Tessa Thompson's Valkyrie, alongside MCU newcomer Christian Bale's magnificently named Gorr the God Butcher, a vengeful alien slaughterer of celestial beings given a comics-faithful on-screen look. Factor in that love story (but whose?) angle and it seems Waititi is going for broke: "I definitely feel like we put everything – every idea and every single ridiculous concept or gag or stunt or character – into this film."
Don't Worry Darling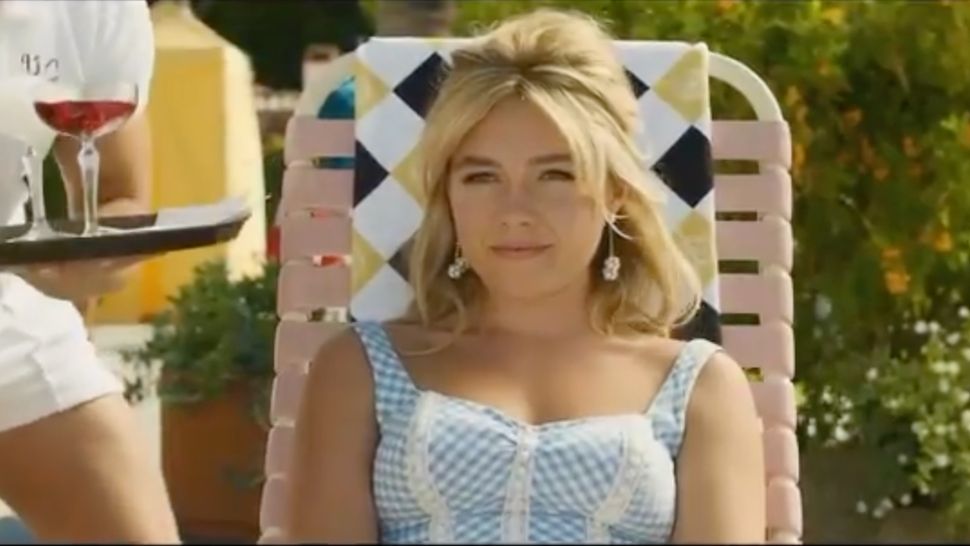 Release date: September 23, 2022
Don't Worry Darling is a psychological thriller set in the '50s. Directed by Olivia Wilde, her first film since Booksmart, it star Florence Pugh as Alice, an unhappy housewife, while Harry Styles is her husband Jack – and he's hiding a dark secret. Is everything in their neighborhood as perfect as it seems? So far, so mysterious. Chris Pine, Gemma Chan, KiKi Layne, Nick Kroll, and Wilde herself also star.
Mission: Impossible 7
(Image credit: IMDb)
Release date: September 30, 2022
Yes, there have already been six of these action-packed blockbusters, and the series continues for good reason. Tom Cruise was born to do death-defying stunts, and this series is full of them. This time around, he's joined by series newcomers Hayley Atwell and Pom Klementieff, while Ving Rhames, Henry Czerny, Simon Pegg, Rebecca Ferguson, Vanessa Kirby, and Angela Bassett all reprise their roles from previous movies. Christopher McQuarrie is back in the director's chair, and a sequel – Mission: Impossible 8 – is already dated for July 2023.
Spider-Man: Across the Spider-Verse – Part One
(Image credit: Sony/Marvel)
Release date: October 7, 2022
Spider-Man: Into the Spider-Verse is arguable the best Spider-Man movie so far. So, there's a lot of anticipation for the sequel, Across the Spider-Verse – Part One, which is, as the title suggests, only the first part of a longer story. "Miles' story is an epic," screenwriters and producers Phil Lord and Chris Miller said. "We wrote what we thought the story needed to be, and to our surprise we realized it was two movies instead of one. We're working on them both as we speak. Part Two will be out sometime in 2023. We will sleep again in 2024."
Halloween Ends
(Image credit: Universal Pictures)
Release date: October 14, 2022
"I would say, given what I know about the next movie, I think it will be the last time that I will play her," Jamie Lee Curtis tells Total Film of returning as Laurie Strode in the final part to the rebooted Halloween trilogy. "And I'm not saying something like, 'Oh, because I die!' It's nothing to do with that. I'm talking about emotionally what they have constructed. I think it will be a spectacular way to end this trilogy."
Producer Malek Akkad hints that "the last one is going to be way more contained", while director David Gordon Green suggests that Halloween Ends will be a departure from what came before. "I get engaged by doing something different. If I was just going to be repetitive, I would hand the reins off to someone else. When you have that opportunity within an established franchise, it's really fun to think about how you can show different tones and perspectives and evolve," Green says.
In other words, get ready for a bloody good time, and a big ending for the characters we have known and loved over the last few decades. Hopefully, Green can deliver the send-off that Laurie Strode deserves.
Black Adam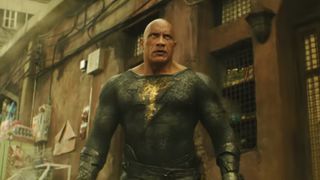 (Image credit: Warner Bros)
Release date: October 21, 2022
Given his hulking frame and larger-than-life persona, it's almost surprising that Dwayne Johnson has never starred as a comic-book superhero before. But all that's about to change as he arrives to disrupt the power hierarchy in the DC Universe as Black Adam.
But while the character might not be a household name (yet), Black Adam – or Teth-Adam – has been a passion project of Johnson's for more than a decade now. The antihero is one of the most powerful beings in DC Comics. A slave from Kahndaq granted superpowers by the wizard Shazam, Adam chose a dark path of revenge against those who wronged him, looking to settle the score by any means necessary.
The character is, according to Johnson, "a bad motherf*cker". And that's what attracted him to hold out for 10 years to play him despite numerous opportunities to play superheroes in the intervening years.
"Official offers never happened. It was always conversations with studio heads," he tells Total Film. "But there was always something unique, different about Black Adam. He was a villain, an antihero, depending on your interpretation of what a villain is. I loved this idea that his pain and rage comes from loss, and was fuelled by oppression. And at some point, he refused to be held down anymore. If you wrong him, his family, or his people, then you will die. Period. That is just that simple."
One thing's for sure: Black Adam is set to shake the DCEU to its foundations. On working with director Jaume Collet-Serra again after Jungle Cruise, Johnson says, "Right from the beginning, we gelled, because it was like: 'OK, our goal and our North Star is the hierarchy of power in the DC Universe is about to change.' Let's have guts. Let's get after it. And let's be destructive."
Black Panther: Wakanda Forever
(Image credit: Marvel)
Release date: November 4, 2022
For director Ryan Coogler's Black Panther: Wakanda Forever, the profound challenge was how to make a sequel after the death of Chadwick Boseman. Backing up comments made by Kevin Feige, production and development VP Nate Moore recently clarified one point: "As hard as it is narratively to figure out what to do, because that's a big hole, at no point did we consider recasting."
Though production is on hold until early 2022 following injuries sustained on set by Letitia Wright, the result promises to honor Boseman's imprint while building on the example he set so emphatically. Rising to the task will be returning stars Wright, Lupita Nyong'o, Danai Gurira, Winston Duke, and Martin Freeman. Newcomers onboard include Dominique Thorne as Riri Williams, soon to lead Disney Plus's Ironheart, alongside Michaela Coel and Tenoch Huerta in unknown roles. Unless Namor the Sub-Mariner surfaces after all.
Other rumors hinge on deeper explorations of Wakanda's "different subcultures" (says Feige) and further cast returns. Daniel Kaluuya, surely. Michael B. Jordan, even? However this pans out, Duke (M'Baku) describes the filmmaking experience as "emotional": "We're all a bit of a family now and we grieve together, and we're making something really special." Fit for a king, then.
Avatar 2
(Image credit: Disney)
Release date: December 16, 2022
Despite the exceedingly long wait – Avatar arrived to smash box-office records back in 2009 – the sequel is nearly upon us. So what took so long? In large part, producer Jon Landau says, it was down to writing not one but four scripts for the planned series of sequels up to Avatar 5.
"The scripts are the blueprint from which we work," Landau tells Total Film. "So a large portion of our time was writing… with the challenge that each of those four scripts had to individually resolve itself in a story that concludes with a big emotional resolution – but when you look at them as a whole, the connected story arc of all four movies creates an even larger epic saga."
Avatar 2 specifically picks up with the Sully family, and as much time has elapsed in the story world as in reality. Jake (Sam Worthington) and Neytiri (Zoe Saldana) are now parents. "I think the story of Avatar 2, and the strength of the story, is what Jim [Cameron] always does in any of his movies: he writes in universal themes that are bigger than any one genre," explains Landau. "And if you think about this, there's really no more universal theme than family. At the center of each of our sequels is the Sully family. What are the dynamics that parents go through to protect their family?"
The Sullys' idyllic life is disrupted when the RDA mining operation returns to Pandora, forcing Jake to take the family to "what is perceived as a safe harbor" at the reef. "And when you get to the reef, there's a clan we call the Metkayina," continues Landau. "The Sullys are no longer in the environment that they know, the rainforest. They become the fish out of water. They become the fish out of water both culturally and just environmentally."
Shazam! Fury of the Gods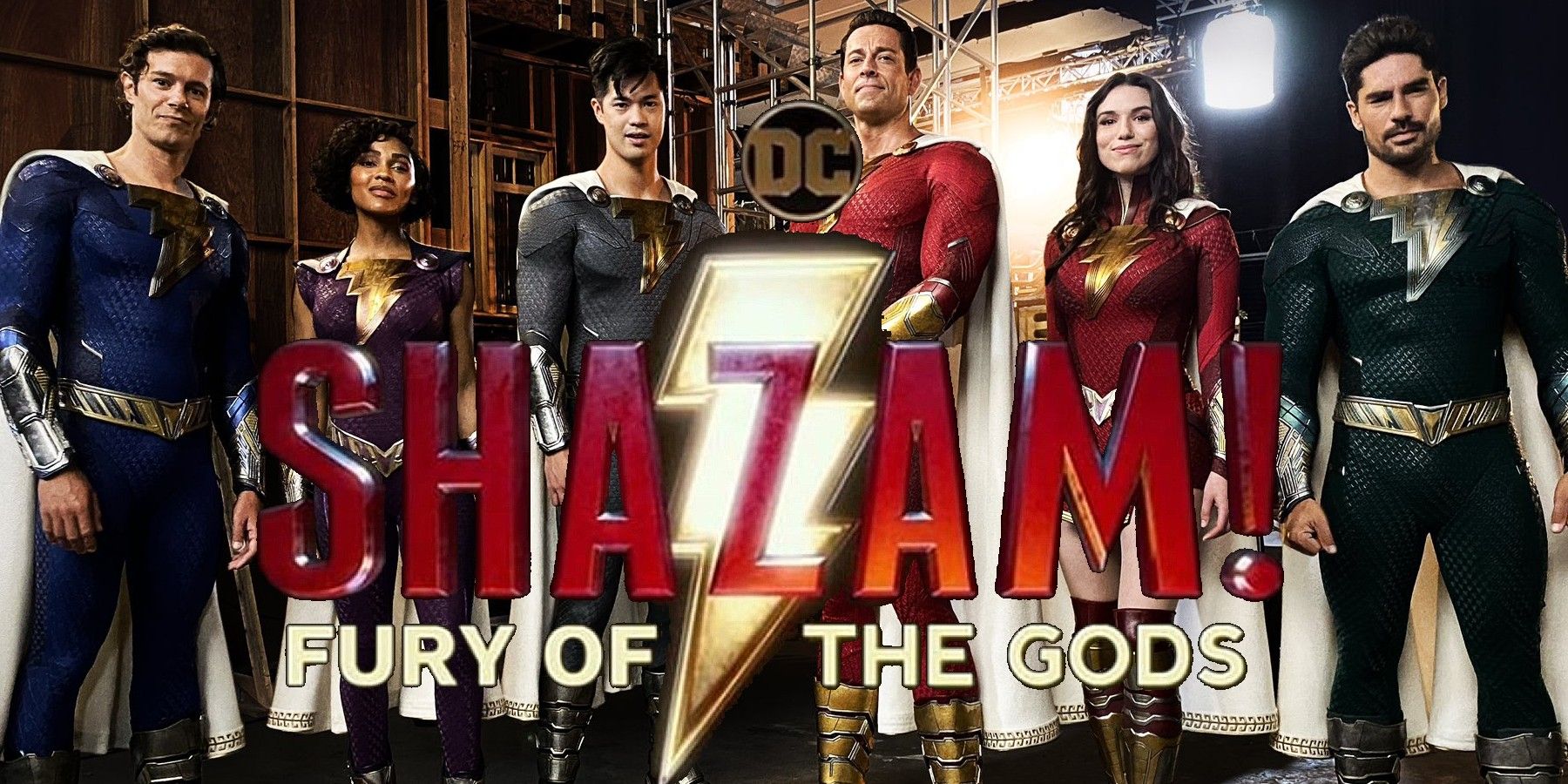 (Image credit: Warner Bros.)
Release date: December 16, 2022
Zachary Levi returns as Shazam in Shazam! Fury of the Gods. The superhero alter-ego of teenager Billy Batson (Asher Angel) will face off against the daughters of Atlas, played by Helen Mirren, Lucy Liu, and West Side Story's Rachel Zegler. While Black Adam and Billy Batson are foes in DC Comics, Shazam 2 director David F. Sandberg has confirmed that Dwayne "The Rock" Johnson's character won't be appearing in this movie. The sequel was originally meant to come out in 2023, but it's now taken the spot on the release calendar held by Aquaman 2 (which has in turn been delayed until 2023).
Aquaman and the Lost Kingdom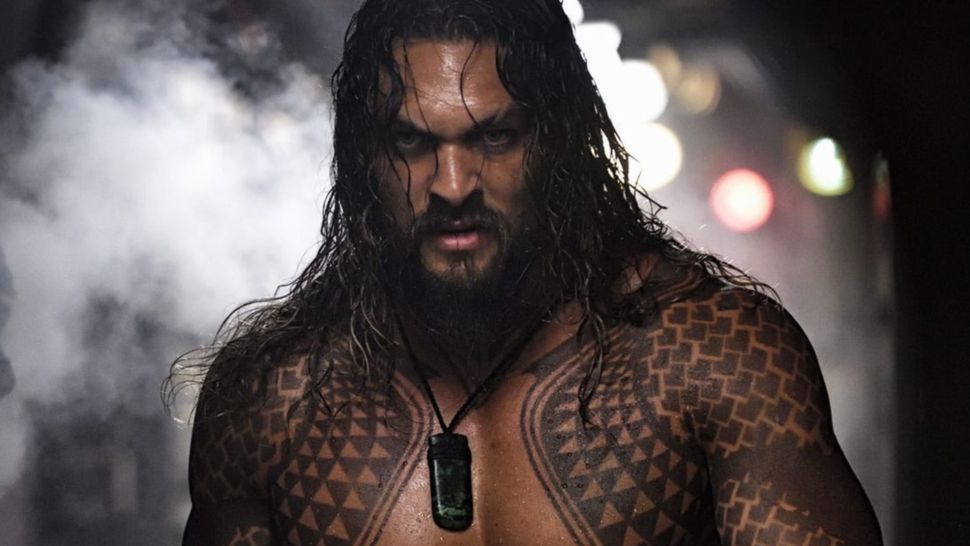 (Image credit: Warner Bros.)
Release date: March 17, 2023
James Wan returns to direct Aquaman And The Lost Kingdom. Never mind that The Conjuring director's proposed solo Black Manta movie (under the guise of monster spin-off The Trench) has been canceled: Yahya Abdul-Mateen II's David Kane/Manta continues to seek vengeance on Aquaman in the sequel to the 2018 hit, which had more legs with ticket-buyers than an octopus on drums. Alongside Dolph Lundgren, Patrick Wilson, and Amber Heard, Jason Momoa plunges back in, this time in a darker, bluer "stealth" suit styled after cephalopods camouflage skills.
Wan promises "a movie that's more mature [than Aquaman] but yet still retains its fun," while producer Peter Safran reiterates the series' faith in excess: "We have turned the dials up to 11." Next to Safran's Spinal Tap nod, Wan references horror movies with promises of both genre elements and nods to Planet of the Vampires, Mario Bava's stylish, proto- Alien 1965 shocker.
Also perhaps involved is the lost underwater kingdom Necrus, plus a monster or 10. Concept art netted for FanDome ranges from sand creatures to toothy undersea tentacles and Curry riding a seahorse. But it wasn't all smooth riding for Momoa: "I'm just getting beat up," he lamented to The Ellen Show during the physically testing shoot. Sounds like DC isn't pulling its punches here.
John Wick 4
(Image credit: Lionsgate)
Release date: March 24, 2023
Delayed by both the pandemic and Reeves' commitment to The Matrix Resurrections, shooting on the fourth John Wick movie finally began in June 2021.
Like the first three movies, this new installment is directed by martial arts expert-turned-stuntman-turned-kamikaze-filmmaker Chad Stahelski, and it will continue where the third chapter left off, with ace assassin Wick (Keanu Reeves) pursued by all and sundry due to the $14m bounty on his bonce. But don't expect him to accept his fate: our beloved killer is about to go after The High Table, the council of crime lords that governs the underworld and that slapped that price tag between his eyes for the bullets to aim at.
John Wick Chapter 4 will open out the world of the first three movies, and again up the ante on the action, with Reeves promising the set-pieces are "amazing." Returning actors Reeves, Ian McShane, Laurence Fishburne, and Lance Reddick will be joined by newbies Donnie Yen, Bill Skarsgård, Clancy Brown and, as a new villain, Alita: Battle Angel's Marko Zaror. Expect thrills, (blood) spills, and many, many kills; don't expect a happy ending.
"John's got nowhere to go," Stahelski told IndieWire. "Do you think he's going to ride off into the fucking sunset? He's killed 300 fucking people and he's just going to [walk away], everything's okay? He's fucked for the rest of his life." Maybe so, but let's hope he gasps and guns his way through a few more movies first. A fifth chapter is planned, and Reeves has said he'll go, "As far as my legs can take me, as far as the audience wants to go."
The Flash
(Image credit: Warner Bros. Pictures)
Release date: June 23, 2023
Hungry for more Batman after The Batman? Then welcome The Flash, finally incoming under It director Andy Muschietti. While George Clooney denies any involvement, former Bat-leads Ben Affleck and Michael Keaton will appear. Keaton's plot function remains under-cowl, though the veteran actor did say that returning to the cape after 30-ish years felt "shockingly normal" for him.
As for other sensations, Muschietti teases shivers amid a multiverse of tones: "What you will see in Flash is a very deep, emotional story, but it's also going to be very funny and a great epic adventure… [and] also terrifying sometimes." Muschietti is just the man for that tonal jamboree, reckons the film's writer. "He can jump from funny to scary to emotional really fast," says Christina Hodson, who drew on the Flashpoint storyline for a tale involving time travel, the murder of Barry Allen's mother, and the opening of DC's multiverse.
Further fine points remain secret, including the film's villain: at a DC FanDome panel, the Scarlet Speedster himself, Ezra Miller, said there could be many, none, or something more mysterious afoot. "Which is good for a villain, to have an air of mystery," said Miller, "until they POP OUT!"
Tomb Raider 2
(Image credit: Warner Bros)
Release date: Unknown
Alicia Vikander returns as Lara Croft for another adventure. We know very, very little about the upcoming video-game adaptation, but Ben Wheatley has dropped out as director, with Misha Green (Lovecraft Country) replacing him. Filming was set to take place in a variety of countries across the globe but was later whittled down to just England and South Africa. Now, with the director's change, everything's unknown, but hopefully, some good news will come soon.